Company profile
Dualsky – Shanghai Dualsky Models Co., Ltd. was established in early 2004. We are specialized in R&D, production and sales of electronic power system for RC models. We can provide customers with quality and cost-effective solutions for the power of electronic models. Our products include Xmotor brushless outrunners, Xcontroller brushless ESC, Xpower high rate Lipo batteries and other accessories.
Dualsky product is exported to worldwide markets as its stable quality and good performance, very popular with customers. Some products have won a number of national awards. In the 2007 Prague Model Show, the XM2812RTR won The Product of The Year.
In 2008, the company launched a sub-brand Track&Field which is for top brushless power system for racing cars.
From 2011, Dualsky developed a new strategic objective, increased R&D investment, pays more attention to cooperation with the pilots, keeps serious attitude towards each product. Meanwhile, the company optimized the service processes to provide a good service to customers more efficiently and quickly.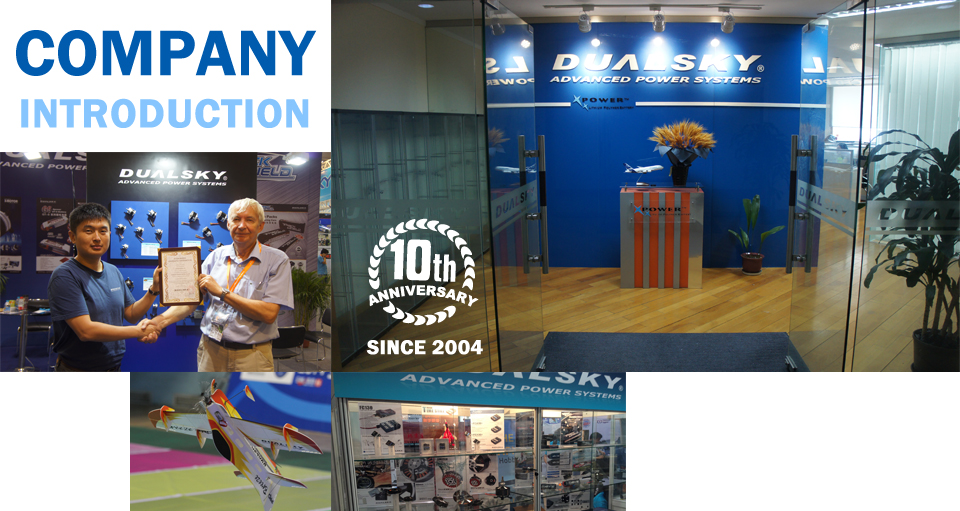 Company ten years review
Drag and click year number,View Details
2014

Introduced ECO and ULTRA series of lithium batteries

2013 Autumn

Launched FC130 series 3-axis gyro, entering the field of flight control

2013

Release Hornet460 multi-rotors, released a full series of MR motors for multi-rotors

2012

CA2 series motors appeared on the market

2011

Second-generation Z5 race motor for the car market appeared on the market

2010

Released GT-S, HED series battery packs
2009年

EA Series brushless motor design was completed, released EX Series 5C rechargeable battery pack

2008

Launched N61e battery charger, GT series battery appeared on the market

2007

Released XM2812RTR mechatronic power system and VR-8L voltage regular

2006

Launched Xcontroller series ESC and CA series brushless motor

2005

Introduced the first generation of brushless motors, Xmotor series, upgraded 12C discharge lithium batteries

2004

Established in Shanghai, the same year Dualsky launched the first generation of Xpower series 6C lithium batteries